Security Shield as you most likely know by now is a false security client. This threat is a clone of another program called Security Tool.
Once installed on a computer, Security Shield shield shows false and exaggerated error messages. Everything including the scan results are fake.
Most people get infected with Security Shield from a trojan already present on their computer or by a drive by download. Often times the users computer has been infected for a day or so before this client appears on the system. In order to prevent further infections in the future you should consider installing a highly rate Antivirus Client.
What Damage Does Security Shield Do to My Computer?
The truth is this software does not do a whole lot of damage. It only appears like it. Security Shield will block many programs from running and is known to show a false blue screen and force your computer to re-boot. You may experience severe slow downs and frustration trying to run applications and surf the web. However no personal files on your computer are being changed or delete by this threat. Your personal information is also not being stolen and sent off by this client. At least not at the time of this writing
Security Shield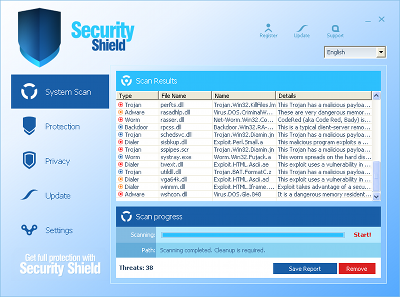 » Download Security Shield Removal Software
If you are infected with Security Shield you need to take action to gain your computer back. Just follow the guide below. We have included a COMPLETE guide that will help you remove Security Shield on Windows Vista as well as a video that is proven to work. If you get stuck or have questions just post a comment. Remember to do each step in order and follow the guide exactly.
Automatic Security Shield Removal Windows Vista Removal
We know for a fact that Spyware Doctor with Antivirus not only detects this threat but it also can remove not only the Security Shield virus but all other viruses installed on your computer. It's simply the easiest option and one of the quickest. If you are having troubles downloading, installing or running the client we suggest you download and install it in safe mode with networking and run a full scan in safe mode. You can always start with the manual removal guide below and after you stop the Security Shield process you can download this client. To learn ttp://www.removevirus.org/how-boot-safe-mode.
Remote Security Shield Removal Service
If your pressed for time or just want an expert to remove this virus threat for you we recommend http://www.pcninja.com. All you have to do is go to the website and they will help you setup a remote session for them to temporarily gain access to your computer and they will remove all viruses and spyware on your computer. OCR is based in California and all workers are certified. The other company we recommend is called T-Support. They are cheaper in price but not based in the United States. It's still a good service but personally I don't mind paying extra for US based support.
Remove Proxy Setting so You Can Connect to the Internet Again. ( Only Needed if you can't get online)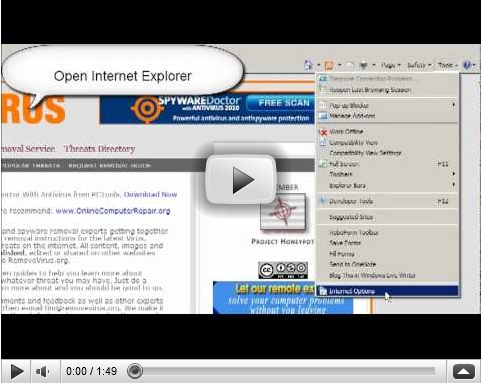 The above video is for Internet Explorer. Chrome users should follow the video as well because Chrome uses the same settings. For Firefox users please read the manual guide here
Security Shield Removal Video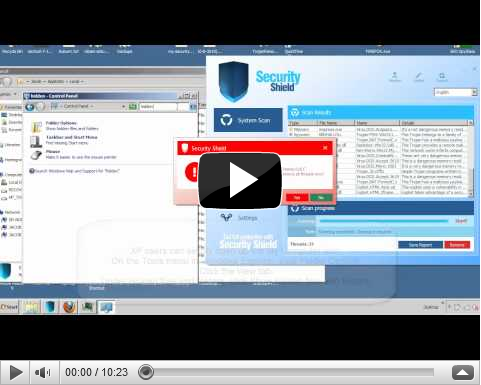 Download Security Shield Removal Software<
Security Shield Manual Removal Procedures
1.In order to delete Security Shield we first need to stop the main executable from running. Once we stop this executable the program will no longer be running and we can delete the program.
random-6 to 10 digit number.exe
HINT: The random folder may look similar to 54066343254.exe or six to ten characters in length
To stop the above processes we recommend you do one of the following
1A. Open up the Task Manager and terminate the above executable.
1B. Right click on the Security Shield icon on the desktop and select properties. Now copy the file path on your computer and than re-name the executable and re-boot your computer. After you re-boot you should be able to delete the file.
1C. Browse to C:\Users\Jacob\AppData\Local\random-6 to 10 digit number.exe and re-name the program. You can re-name it by right clicking on the file and selecting re-name. Just change the name to anthring. Now re-boot your computer
The next step in Security Shield removal is to delete the following file. PLEASE NOTE: You can not delete the file unless you have already stopped it from running. You need to complete step one first.
random-6 to 10 digit number.exe (This is the file you re-named )
c:\programdata\microsoft\Windows\start menu\Programs\security shield.lnk
After that, you can safely say that Security Shield is no longer running on your system. You should now download Spyware Doctor with Antivirus and run a FULL scan to ensure you are not infected with any other viruses and trojans. The free 30 day trial will not remove threats but it will tell you if you infected still and were those threats are so you can manually remove them. It also will protect your computer while you finish of the repair.
Security Shield Registry Removal Procedures
Removing files and folders alone is not sufficient to completely remove Security Shield. The following keys and settings should also be removed from the Windows registry to complete Security Shield removal:
HKEY_CURRENT_USER\Software\Microsoft\Windows\CurrentVersion\Run "Security Shield
Security Shield Directories:
Windows Vista
None at this time however it may change to the below directory
C:\Users\USER NAME\AppData\local\RANDOM\
After Thoughts
Anyone totally new with PC should not attempt a manual cleaning of this threat (Security Shield). Mostly because you're at risk of doing further damage if you don't know what your doing. However if after reading the guide and watching the video you feel confident, go ahead and do it. Remember to run a full virus scan using Spyware Doctor with Antivirus once you are done and if you need or want an expert to remove this threat for you we recommend http://www.pcninja.com .
PLEASE comment below if you are having troubles or if any of the file paths change.